brighton vintage wedding dresses
The Vintage Wedding Dresses
BY APPOINTMENT ONLY 
I am closed due to covid but I now have an Etsy shop so you can see my beautiful wedding dresses: Etsy.com/shop/brightonvintagebride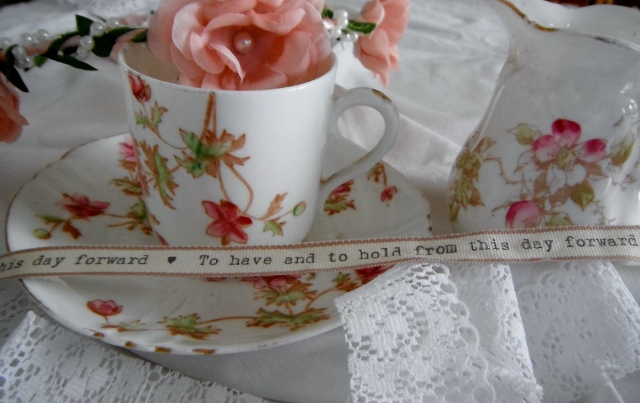 A Personally Sourced Collection of Vintage Wedding Dresses
We do not show all our dresses on our website as there are just too many!
We stock original vintage pieces and contemporary 'Vintage Style' bridal gowns.
Wedding dresses from the 50's and 60's are very popular with today's vintage brides and also bridal gowns from the glamorous 20's and 30's are very sought after. We operate an appointment system so that every bride receives the very best attention.
We offer a relaxed, friendly and fun service for brides, their family and friends.
Our wedding dresses are affordable and amazing!
Most of our bridal gowns are priced between £200 – £500, some are more and some are less.
Any length – long, short, ballerina, or ankle – we have dresses to suit every taste.
Beautiful lace, silk, satin and chiffon are used to create stunning wedding dress styles.
There are the soft, airy 'Grecian' style wedding dresses, with flattering empire lines that suit most body shapes.
Made of soft, floaty, silk-chiffon, they waft effortlessly.
Contemporary, 'Bohemian' style bridal gowns, of silk, lace or satin, have attractive low-curved backs and soft, flowing fabrics to accentuate feminine curves.
There are modern, wedding dresses which reflect the glamorous age of the 20's and 30's.
Cut on the bias, these wedding gowns have a beautiful drape.
We strive to offer a wide range of wedding dress styles including 'something a little bit different'
We aim to provide a memorable experience for brides when they visit our bridal boutique.
A relaxed atmosphere allows brides to take their time when selecting and trying on dresses.
We encourage brides to try on as many dresses as they like.
We offer advice to help achieve their desired look and, most importantly, to feel great on their special day.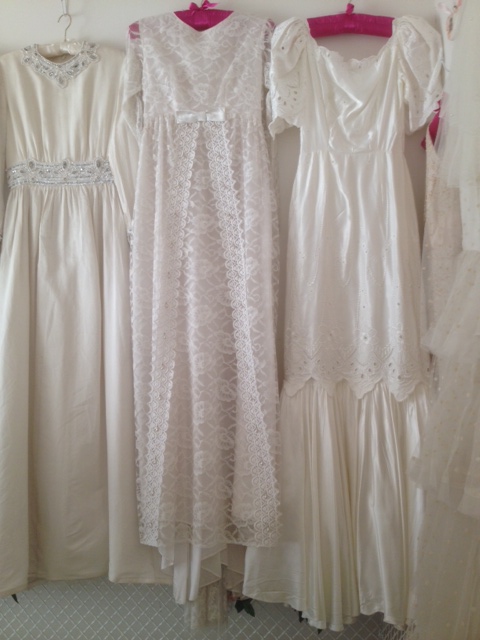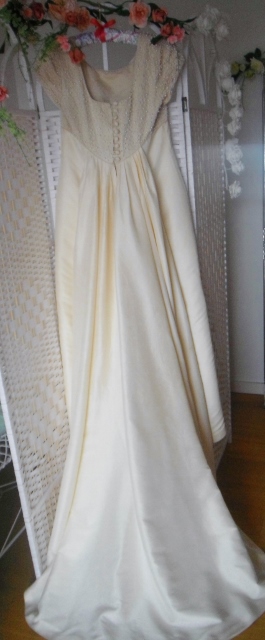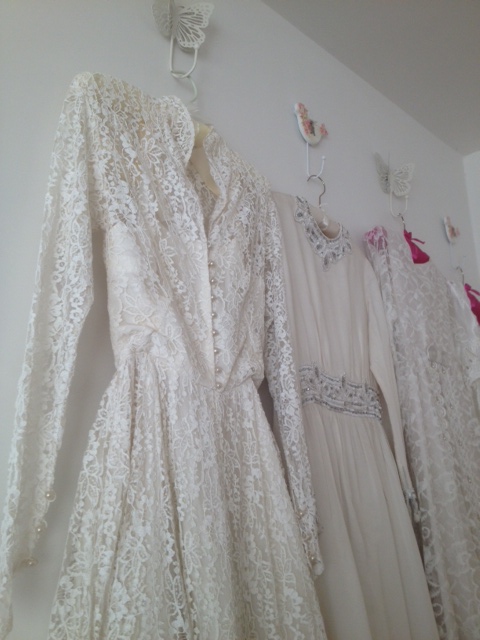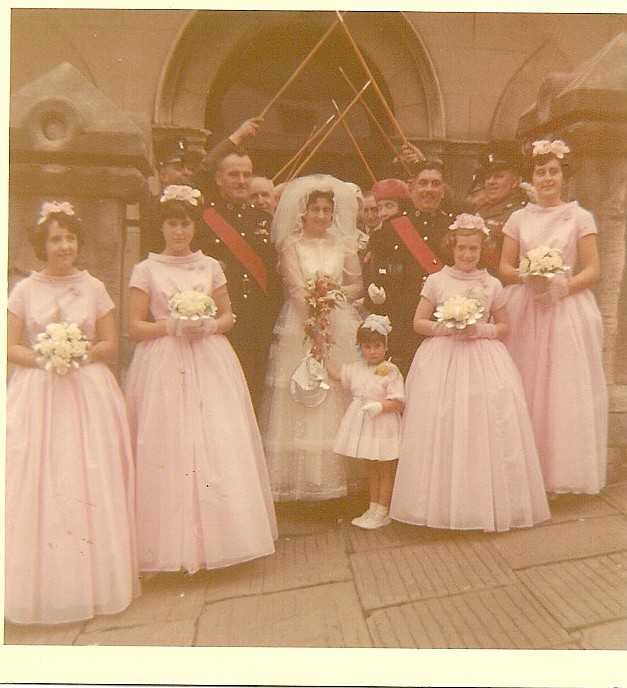 Kitty has been sold!….. to a lovely bride who is getting married later in the year. I am so looking forward to seeing the photos!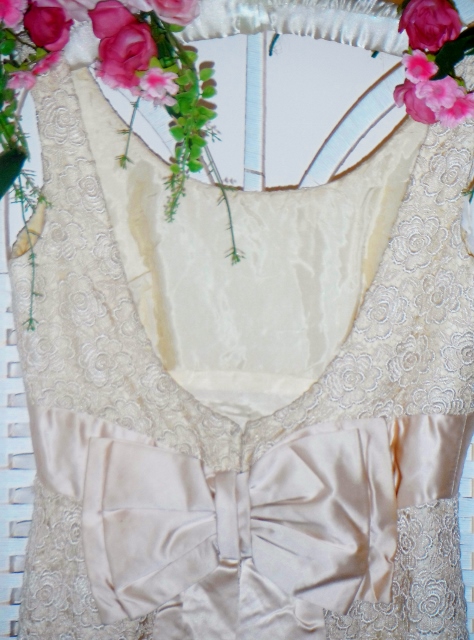 Bridgitte
An original vintage wedding dress with a figure hugging silhouette. Textured, corded lace, in a shade of soft champagne, gives this dress form and definition. The hem has a pretty scalloped edge. There is also a low back with feature bow.
Size 10
Millicent
This is a bridal two-piece consisting of a pretty lace dress and matching jacket. The soft lace is a pattern-mix of florals and polka dots in a shade of creamy ivory.
Size 10-12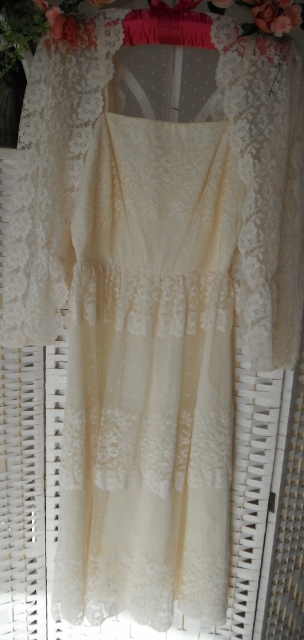 Clementine
An original vintage wedding dress made of heavy damask which gives this bespoke piece a wonderful drape. There is feature pleating to the front.
Size 6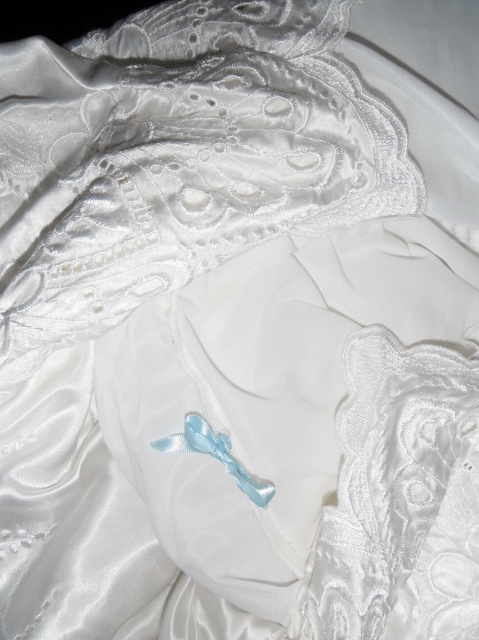 Edith
An original vintage wedding gown made of creamy-ivory satin. The lower skirt has a layer of tulle to add volume and movement. The sleeves can be removed or reduced in size. Something blue, a cute little bow, has already been sewn into the lining.
Size 8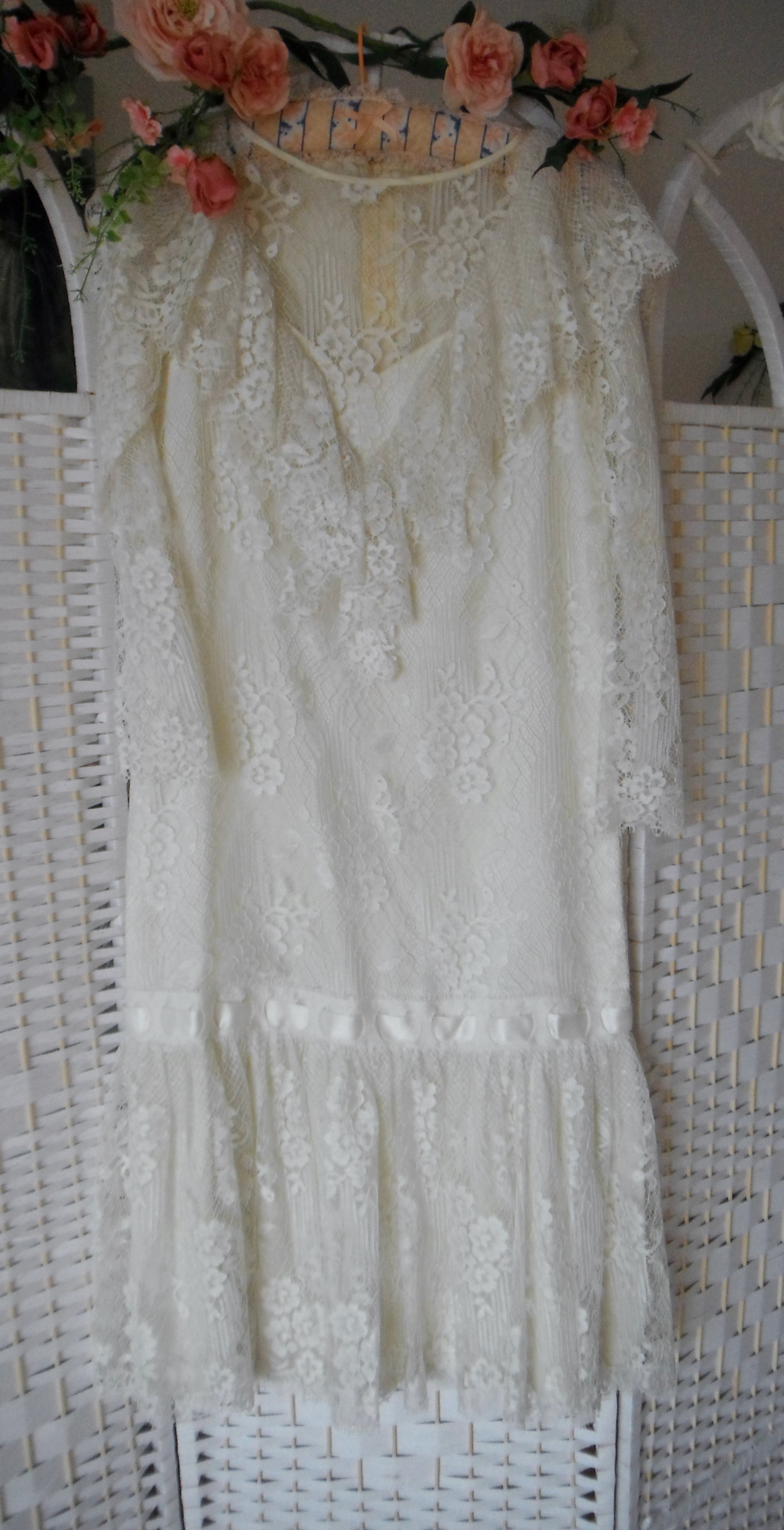 Collette
An original vintage 80's wedding dress made of French lace. A shift dress with styling from the era of 'The Flapper' At the neckline is a waterfall frill which could easily be removed. A drop-waist with a ribbon running through completes the look.
Size 10-12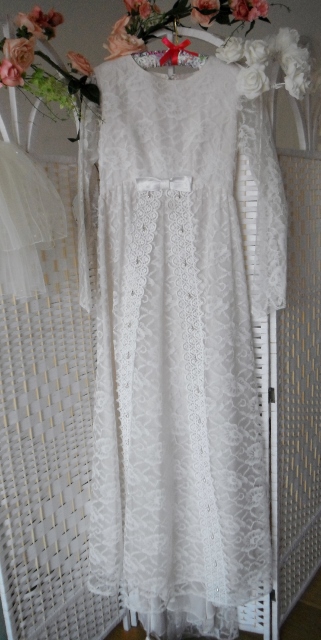 Emmaleine
An original vintage wedding gown, perfect for a festival or 60s themed wedding. Made of floral lace, embellished with drop-pearls and a pretty bow. There is a light, manageable train.
Size 10-12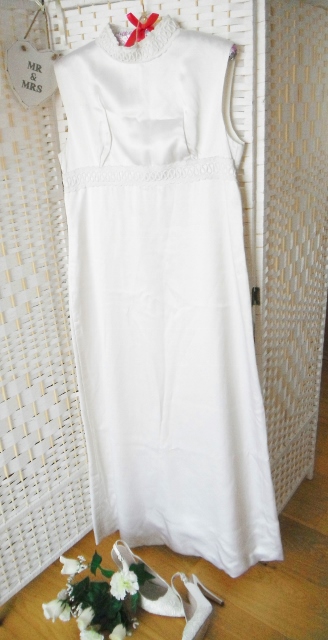 Florence
An original vintage wedding dress from the 60s. This is known as a 'trapeze' dress. An iconic bridal gown to complement any 60s themed wedding. Simplicity is the key to the styling with embroidery adding interest above the waist and at the high neck-line.
Size 10-12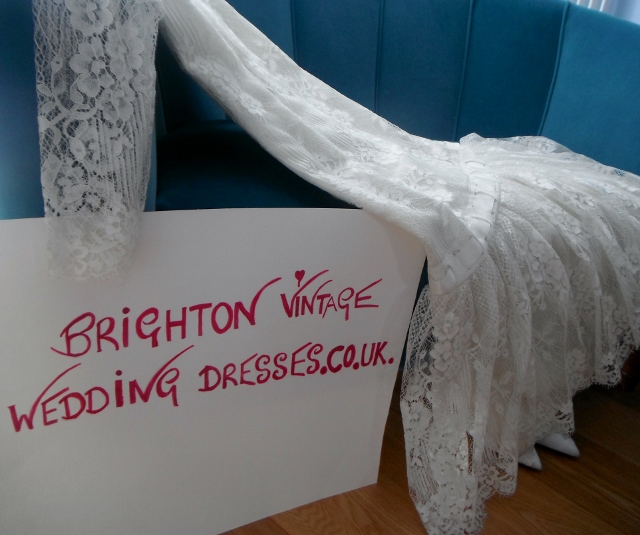 Stella
An original vintage wedding dress, with a subtle silver-sparkle, perfect for a 60s themed wedding. Excellent styling, so often found with vintage creations, provides this piece with an extroadinary fit. Sitting on or just above the knee this dress offers the perfect opportunity to show off those twinkly shoes!
Size 12-14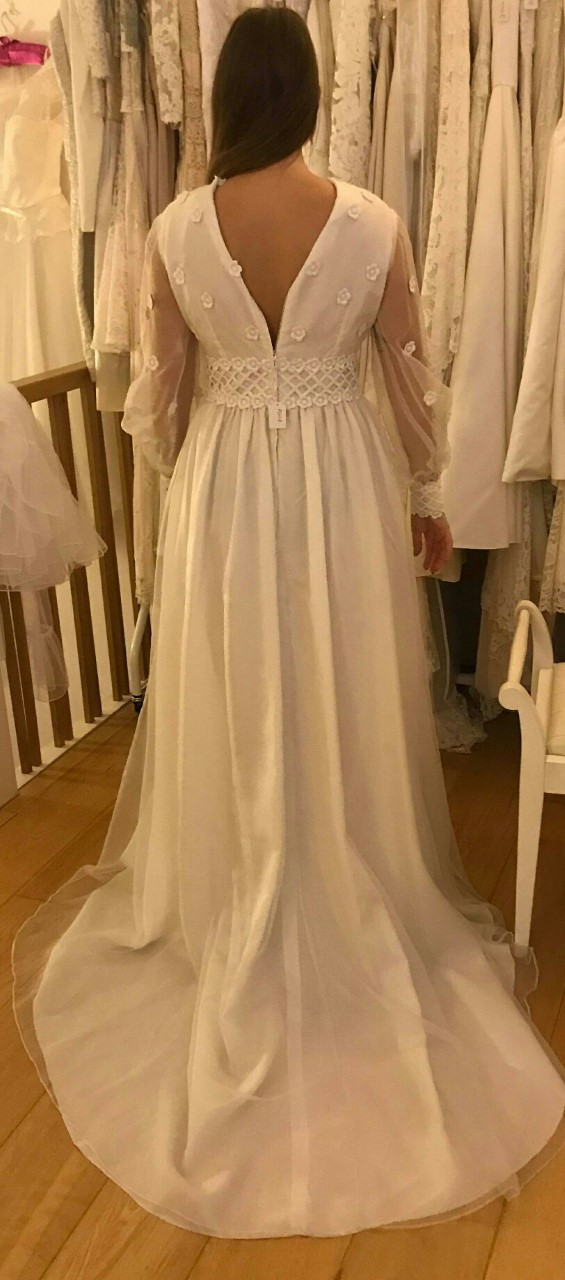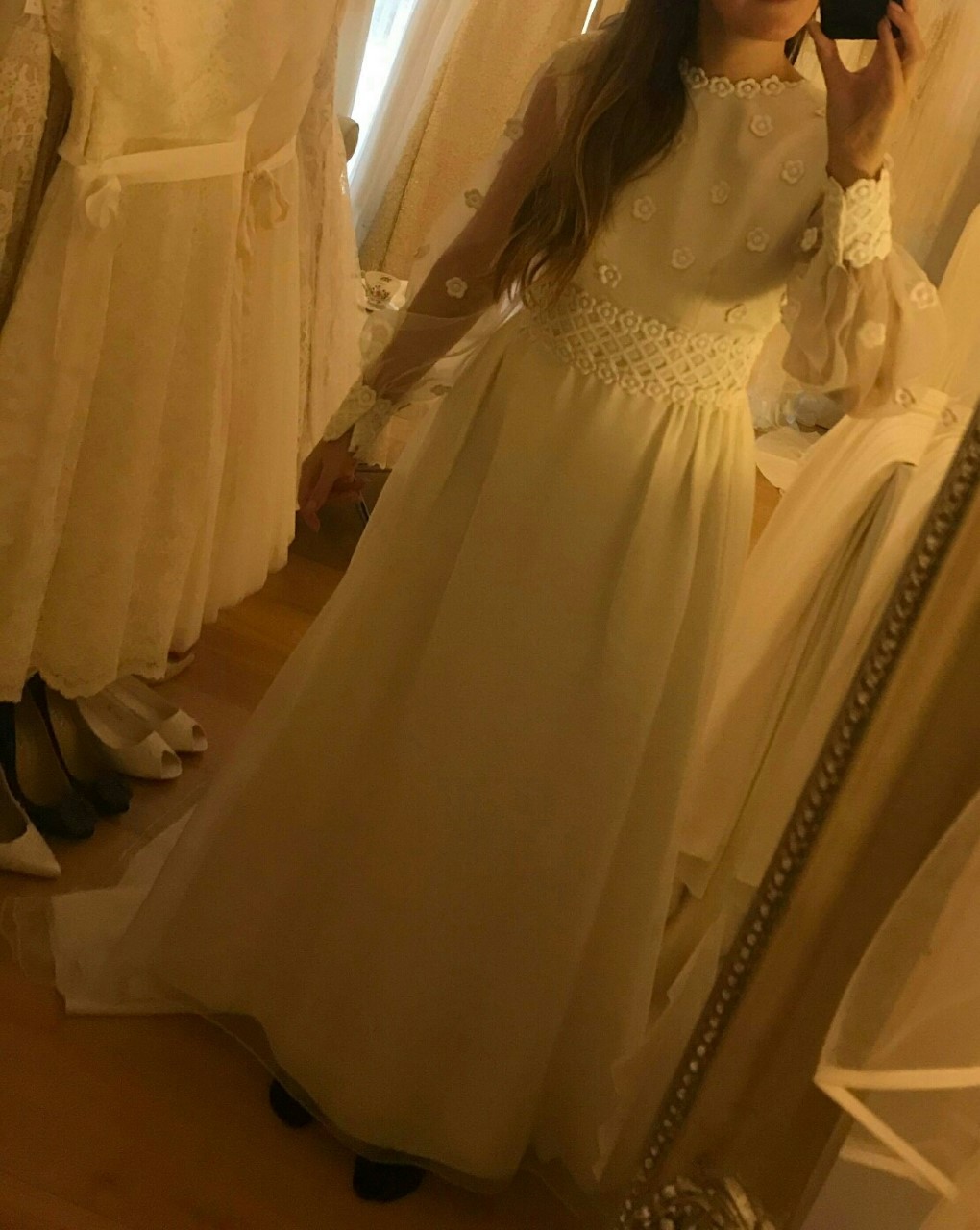 Rose
An original vintage wedding dress. The bodice and sheer sleeves with appliqued daisies are a particular feature of this gown. There is a light manageable train.
Size 10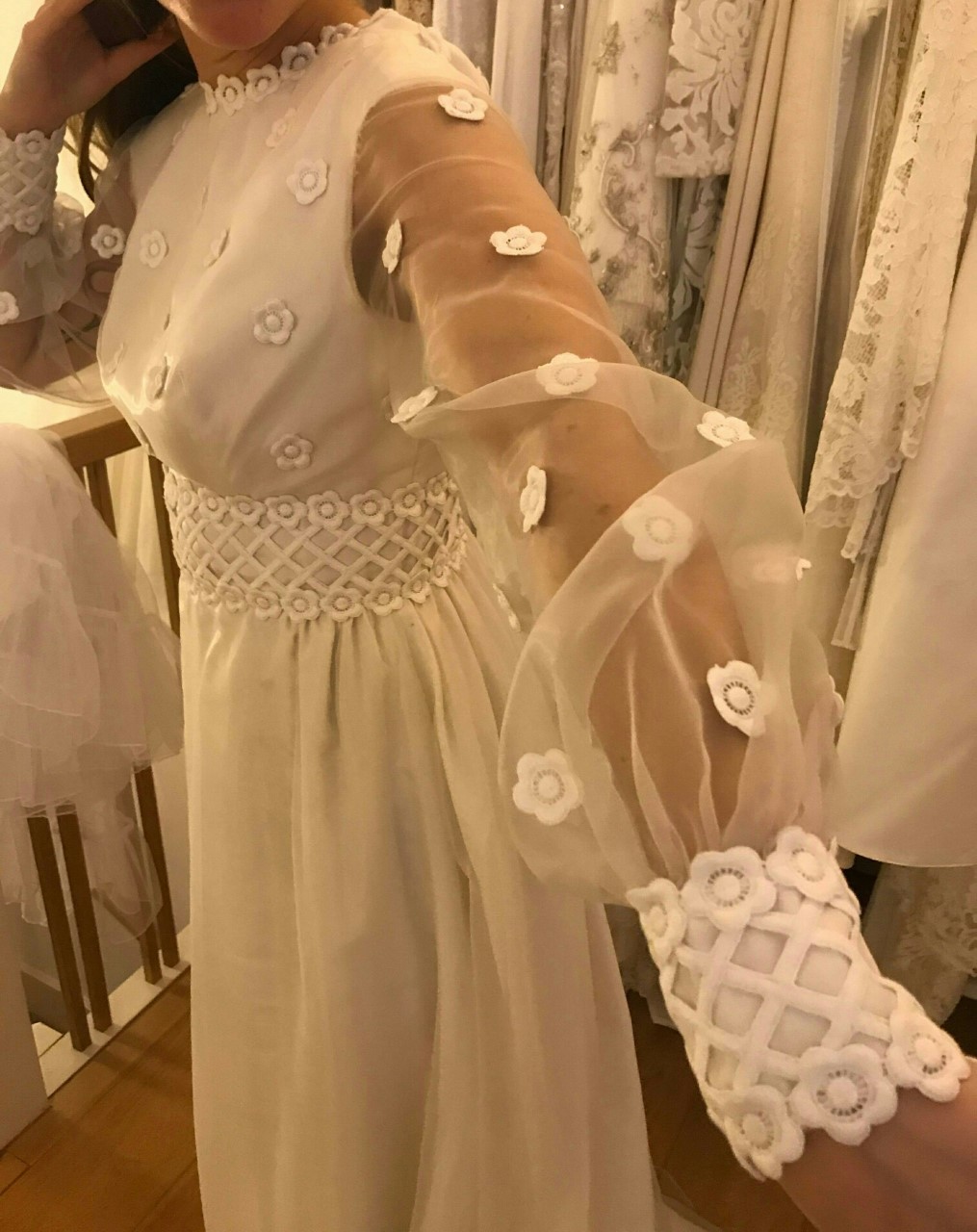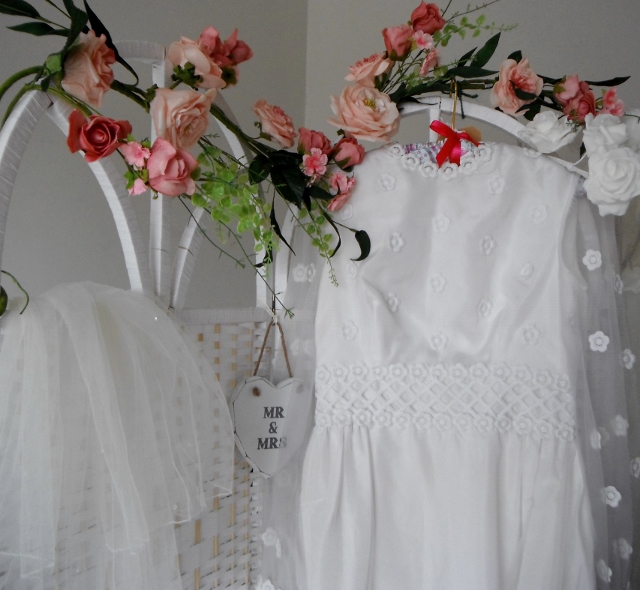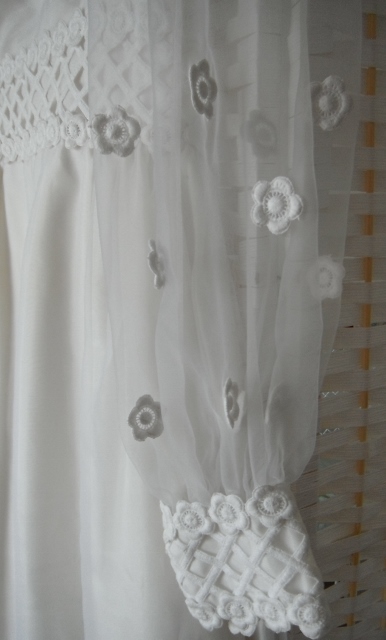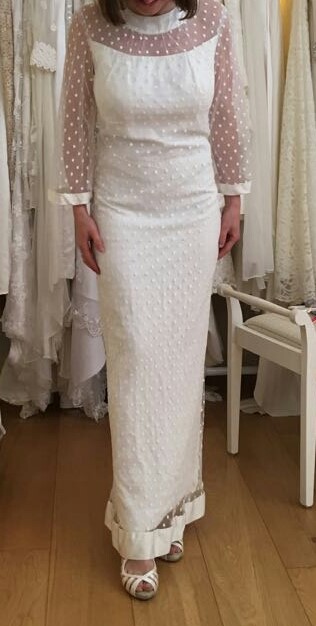 Dolly
An original vintage wedding dress from the 60s, a column style with an overlay of ivory, polka-dot tulle. The neckline, cuffs and hem are finished with a border of soft satin.
Size 10-12
 We do not show all our dresses on our website as there are just too many!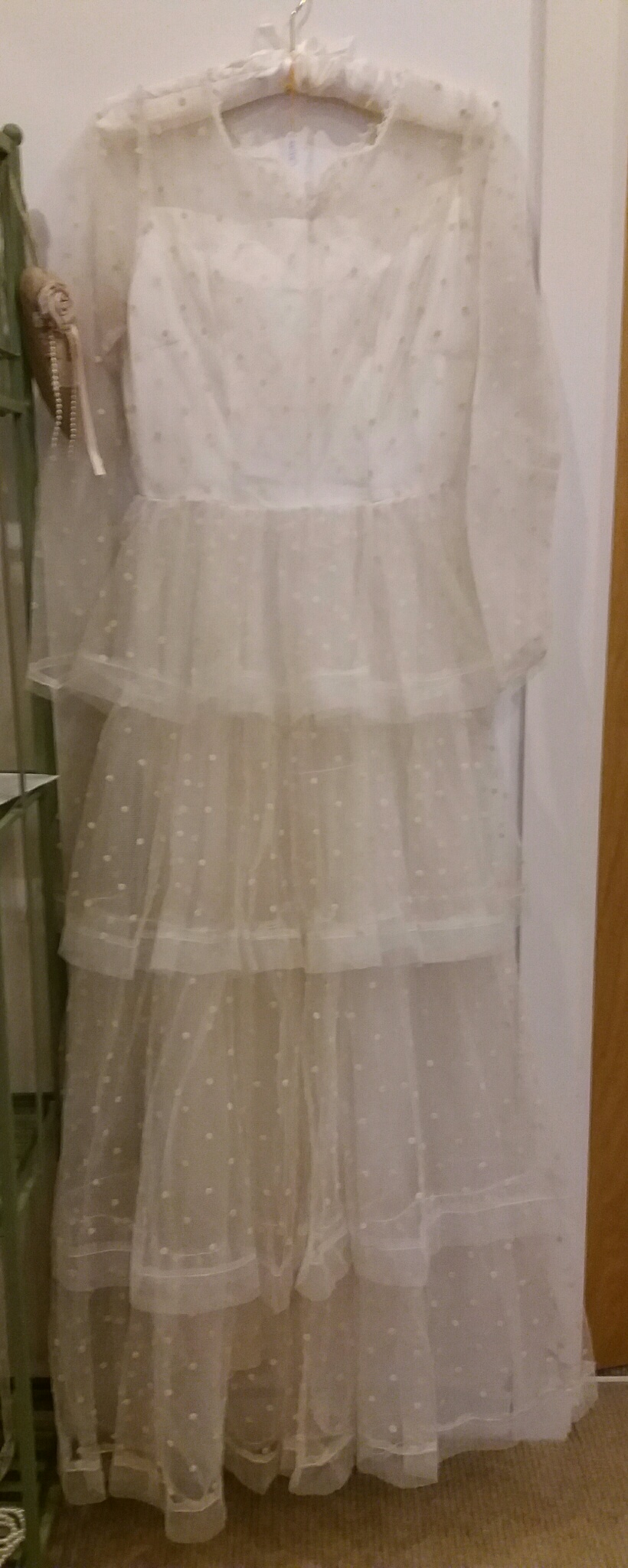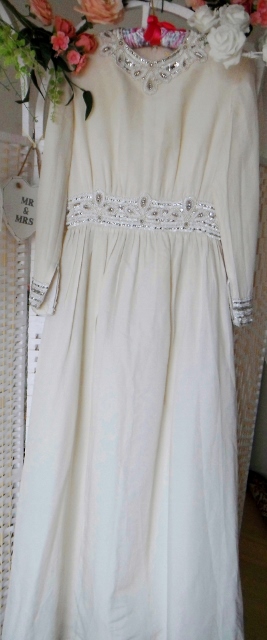 Genevieve
An original wedding gown made of raw silk. Embellished with beautiful rhinestones, beads, sequins and pearls.
Size 8-10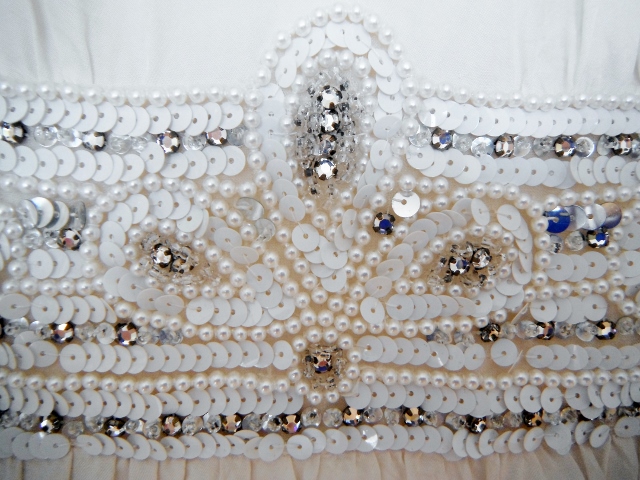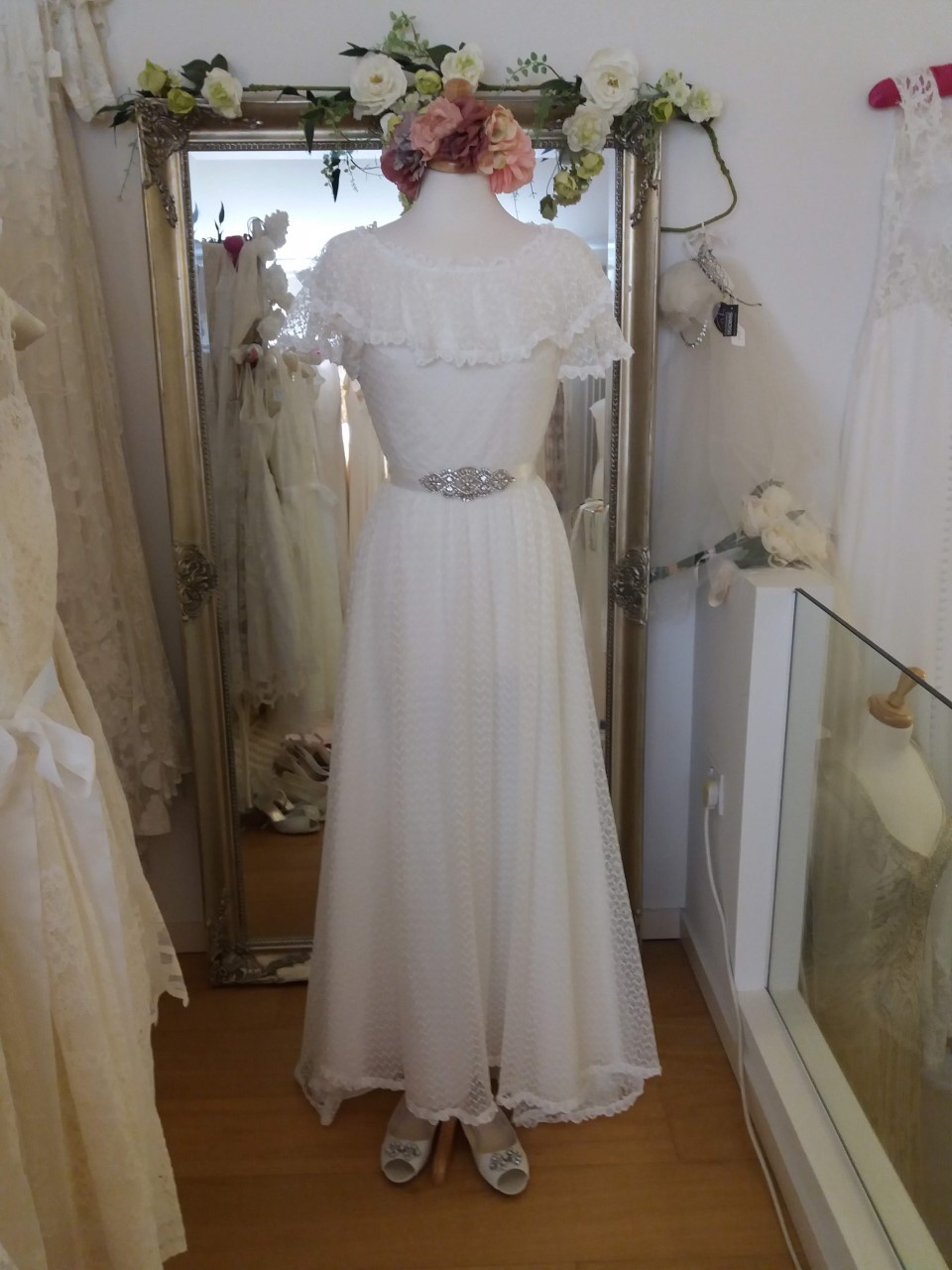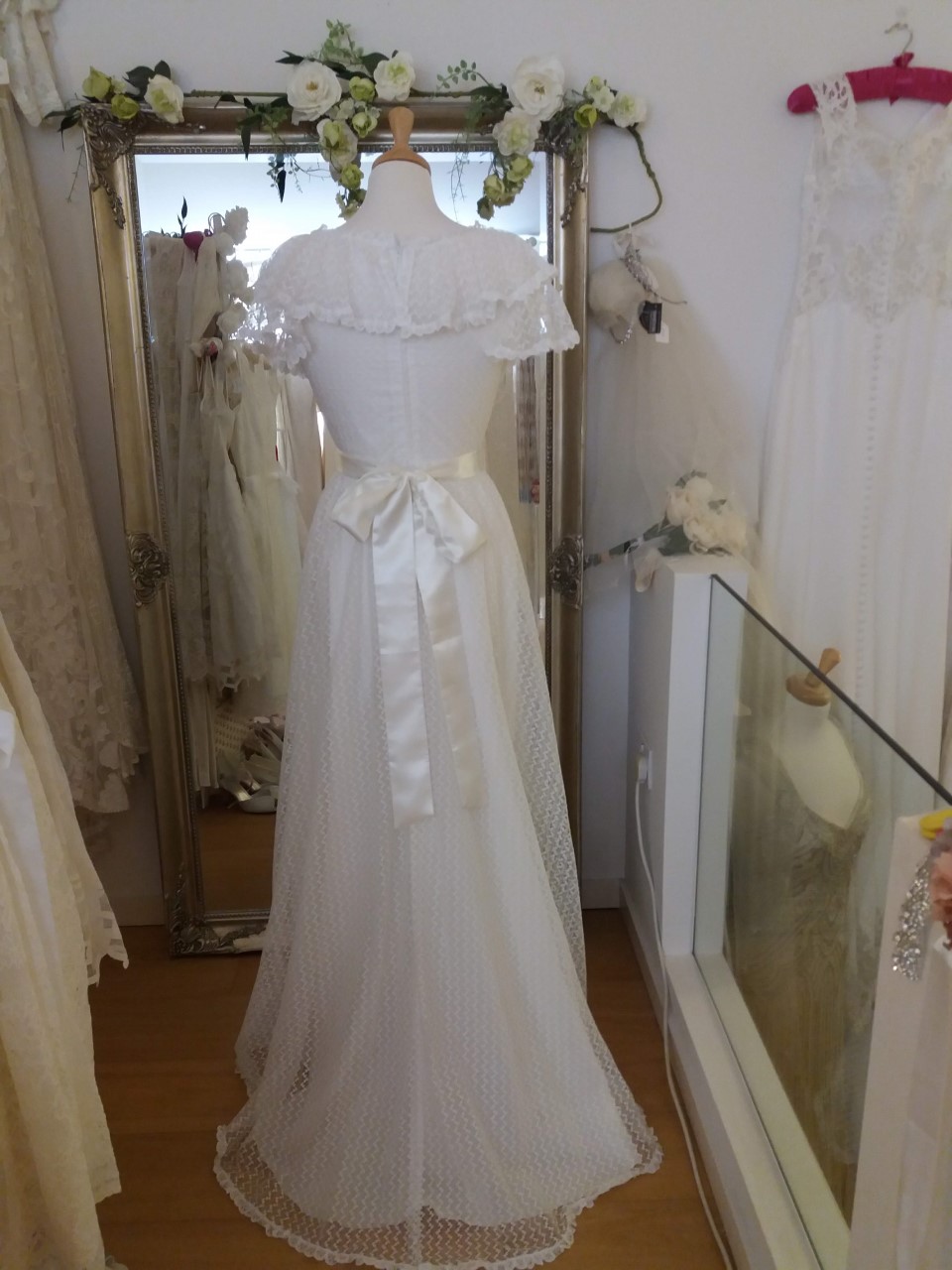 Poppy
A gorgeous original vintage wedding dress from the 70's. In pristine condition this gown can be worn off the shoulder for a romantic look. Add a twinkly belt or satin sash. Size 12 for todays sizing.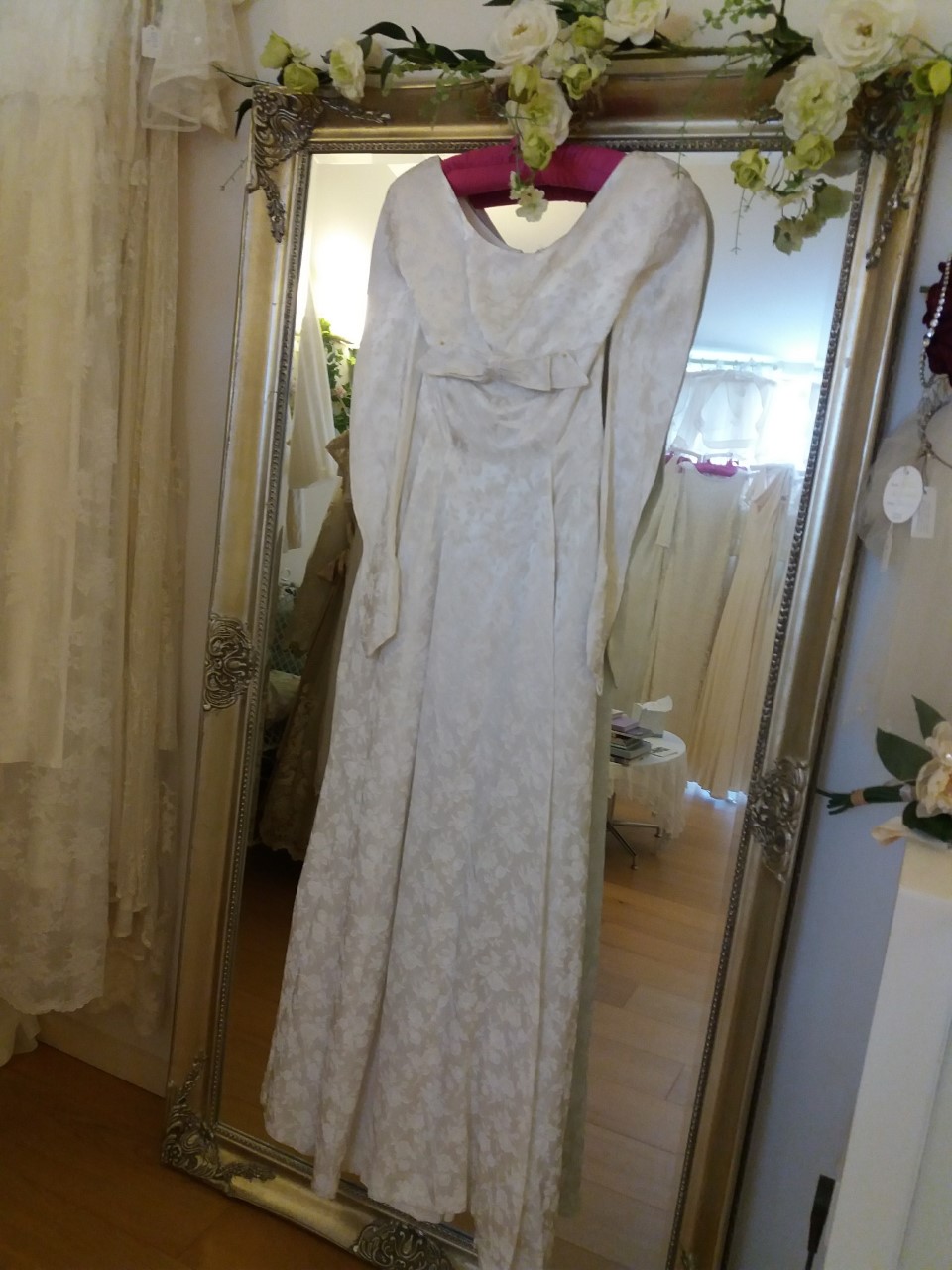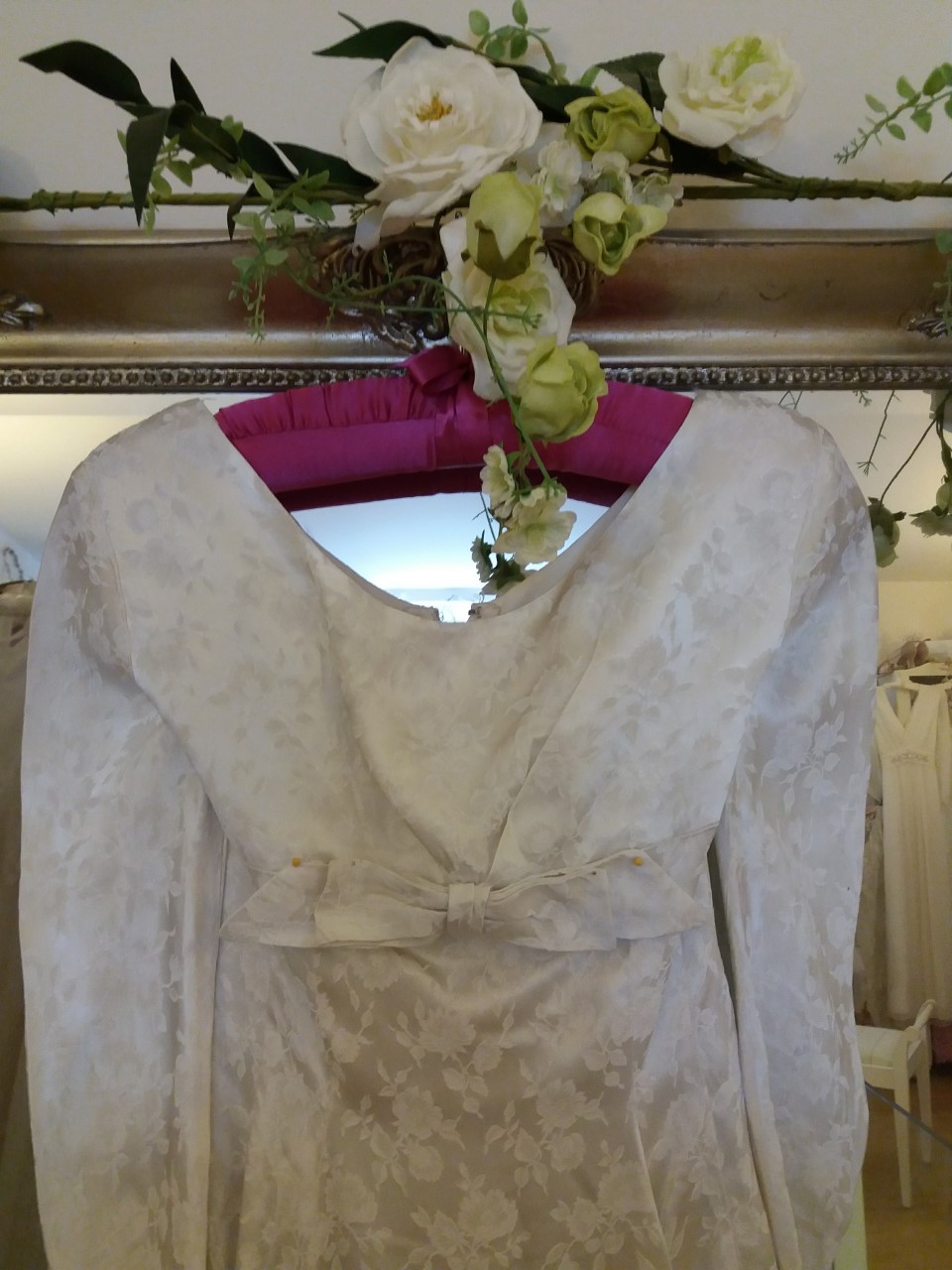 "Perfect – a wonderful memory. You are allowed to consider without feeling pressured.
Very good range of dresses. Very special – thank you."
Linda, Kent
Email now to make your appointment
We would love to hear from you!