brighton vintage wedding dresses
A Collection Of Reviews From Our Lovely Customers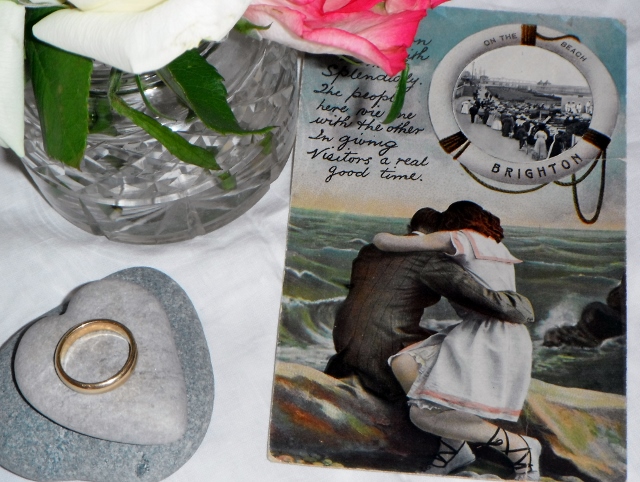 Please look at our 'Real Brides' page for more reviews with photos of our beautiful brides!
'I am very happy that I bought from you, my friend got her dress from you 3 years ago and she had so many special things to say about you and your business'.
30th January 2021
Hi Heather 
'One of my girlfriends reminded me that it was 2 years ago that I visited your lovely shop and found my perfect wedding dress! It bought back such wonderful memories. You were so knowledgeable, and made us feel comfortable and able to make unhurried decisions. I'm glad to see you are still going strong despite covid! We got married in October 2019 in pouring rain but my dress was brilliant for the ceilidh at the reception. I couldn't help but go through your Etsy shop to re-live the shopping experience. I've been recommending you to all of my friends who've been engaged since my visit'.
2nd February 2021
The salon is beautiful and airy and your input was exactly what we needed. The selection is diverse and very bohemian and the prices are the best I've found anywhere for such unique pieces. It was a real pleasure.
Joy March 2017
I would highly recommend Brighton Vintage Wedding Dresses in Hove.
A convenient 3 minutes walk from Aldrington station, Heather's business is a charming shop. I was well looked after (free cup of tea and shortbread on arrival! ) and much enjoyed trying on a range of beautiful, reasonably priced dresses.
Heather was calm, patient and works closely with a local seamstress round the corner who can help with alterations.
Gorgeous dresses and great service!
Ursula March 2017
I have been to many bridal shops and yours is by far the best
Hannah, Norwich, February 2017
Just a few photos of my big day on Saturday. I felt a million dollars and Clare did such an amazing job with the alterations!
Thanks for having my perfect wedding dress!
Emma, November 2016
A huge thank you for my beautiful dress, I really did feel exactly as I had always imagined on my big day. 
Everyone absolutely loved the dress.
Mary, July 2016
We would like to thank you for our best experience looking at wedding dresses.
Becky, Liz & Kimberley, September 2016
After being made a cup of tea, all I had to do was stand there as Heather helped whip dresses on and off until I found one I loved. There was no hard sell. As Heather explained too 'you know when you find the right dress as it will be the one you don't want to take off' And she was exactly right. It turned out to be so much fun I couldn't resist coming back for two more visits, just in case!
Shannon, August 2016
Thank you for your time on Saturday and for making my first foray into wedding dress shopping such a wonderful experience! As an older bride and not being a 'a perfect 10' I was really apprehensive about trying on unfamiliar dress styles and was paranoid I'd look and feel hideous and end up feeling stressed rather than excited. As soon as I arrived to your warm welcome and then saw the lovely haven of a boutique you've set up I knew everything was going to be perfectly lovely – and it was! It was so helpful that you had picked out in advance so many lovely dresses in my size for me to try on and helped me into each one of my choice so expertly. You have something really unique – with a gorgeous selection of beautiful vintage style dresses in an environment that is so personal and welcoming.
Maxine, March 2016
I will recommend Brighton Vintage Wedding Dresses to every bride I meet in the future.
The dresses are exquisite and there is so much choice. I spent the whole morning trying on a number of dresses and retrying……but at no point did I feel pressurised or rushed by Heather…..she is the perfect bridal dress shop owner. The dresses, Heather and environment made for the perfect bridal dress search. If you are a bride and are reading this…..go and see Heather, you will not be disappointed and it will make you so excited about your wedding day.
The only problem you may have is picking which beautiful dress to choose from!
Anne-Marie, March 2016
Heather. Thank you so much, I loved the dress even more than the first time I tried it on! The seamstress was lovely and quoted me a very reasonable price. I will have my dream dress in a couple of weeks……many thanks again. January 2016
Marisa, December 2015
The dress arrived and it is amazing …….you have made a lady very happy! Thanks again
Rose, October 2015
After extensive research online, I was convinced I wasn't going to find what I was looking for without either spending a fortune or having to go for a cheap, heartless knock-off. But then Heather gave me the experience I thought was only possible in movies. She listened to what I wanted, and showed me the most wonderful dresses ( some of which I would not even have noticed but actually looked stunning ) while giving me enough space to form my own opinions on each dress. I felt like a princess and within an hour found the perfect dress for me. All these dresses have so much soul and feel incredibly special, and with a personal touch Heather makes you feel just that. I cannot recommend her store highly enough.
October 2015
A hidden Gem!!
I first contacted Brighton Vintage Wedding Dresses by email to ask for an appointment, I found Heather's communication spot on, she asked lots of questions to get a feel of what I was looking for.
On arrival I found the bridal showroom had such a lovely feel, it was bright and airy, with a great selection of vintage dresses, from all different eras.. with the added bonus of all being at an affordable price!
It was my first time trying on a wedding dress, and I have to say Heather made me and my two guests feel very welcome.
I tried around ten dresses on, all lovely..if the dress was too big Heather pulled it in to give me more of an idea of how it would fit..
Over all I had a fab time and would definitely recommend to other future brides to be..
September 2015
What a find! I have had the best experience shopping for my wedding dress a girl could wish for. It was so easy to get in touch and arrange an appointment at a time to fit in with my busy schedule. I was made to feel at ease immediatley and felt completely comfortable throughout the fittings. The dresses were incredible and I had so much fun trying on the different styles to find my perfect dress. Thank you for making this bride to be very happy!"
September 2015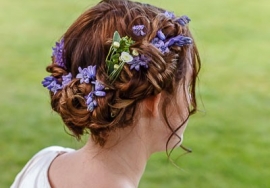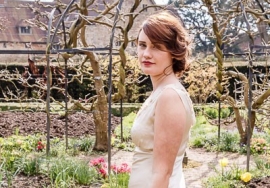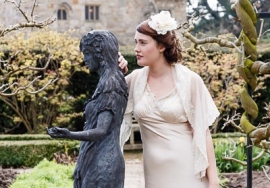 Thank you for today Heather. It was an amazing experience and you have some beautiful dresses.
Jane, Kent
Thank you today for everything Heather I had such a magical first experience trying on wedding dresses.
Emma, Kent, August 2015
Atmosphere of studio: the studio is a lovely surprise at the top of the house – to say it's an attic does not do it justice – you have created a really lovely, welcoming and comfortable space filled with beautiful dresses. I was really impressed – the atmosphere is very calm and a refreshing change from the high pressure environment of high street wedding boutiques. Heather, you are kind, patient and honest and I really appreciate that.
Selection of dresses: a great selection of dresses from a range of eras, encompassing a variety of styles, lengths, colours. You have a great knowledge of, and affection for your collection and clearly enjoy what you do, this comes across in a lovely way.
Cost of dresses: again, a lovely surprise – the dresses are very reasonably priced.
Overall impression: I would definatley recommend your studio to other brides-to-be because it offers a completely unique experience. Before I came to see you I was feeling really disheartened about my dress hunt as I was getting bored with the same selection of designer dresses that I had seen in every shop so far. Visiting your collection reignited my enthusiam for wedding dress shopping.
Amy, Brighton, April 2015
In a relaxed , intimate environment with no time pressure I was able to try on a wide range of dresses with Heather taking pictures for me to review later.
On a second visit I felt comfortable to try on several of the dresses again before ultimately choosing a different dress altogether, which originally I had shied away from as only being a size 8. I never felt pressured, embarrassed (by not being able to get the zip or buttons up) or like I needed to rush into a decision, although it was hard to buy only one dress.
The prices of the dresses were startling in their affordability. You'll be amazed by the interesting and varied styles on offer at Brighton Vintage Wedding Dresses which won't break the bank.
Although I had an idea of the style of dress I was after, dreaming of a thirties style bias cut affair, there were still many dresses of the style I was after but with different features to choose from. Additionally I tried on other styles of dresses ranging from look at me fifties to demur floating empire line dresses that were gorgeous.
Heather was always on hand to offer advice on what worked as well as to suggest ways to compliment the dress with various accessories, even having sample hair bands to match the twenties/thirties style I was going for and veils. Thankfully, as I turned up in winter boots, Heather also had a selection of shoes to try the dresses with.
Nicci Armitage, Brighton, July 2015
I'd like to say it was a pleasure meeting you and trying on your pretty dresses. You made me feel very welcome. I thought the prices of your dresses were very affordable.
Amanda, Brighton, April 2015
I wanted to email to say thank you for today, it was an enjoyable hour with your dresses. There was such a variety. A beautifully set up dreamy attic. A wide range of unique dresses. Reasonable prices
Emily, Worthing, January 2015
We both really enjoyed our time at yours and were both surprised at what a great range of dresses you have. Due to my friend being a size 14 I wasn't sure how many dresses there would be and we were both pleasantly surprised.
The cost is very competitive. Customer service is 10 out of 10. Heather is a great host and we were both really interested in the story of how she came to start her bridal business. I would definitely recommend you to my friends, family and colleagues.
Dionee & Corene, Worthing, March 2015
Visiting Heather's wedding dress studio was the perfect way to see a range of styles, fits and fabrics you just can't find on the high street. There are some stunning and extremely purse friendly dresses, the pricing feels just right. Every piece is different so it's ideal for brides-to-be seeking a more individual look for their special day. Heather is the perfect host, relaxed, engaging and clearly passionate about the dresses without being at all pushy. Will be recommending to my friends and colleagues.
Katie, Kemptown, November 2014
It was a really lovely experience buying my dress from Heather. She had a range of beautiful dresses at prices much more reasonable than the big bridal shops, with more of a personal touch in terms of service. The atmosphere at Heather's was friendly and relaxed and the little extras like tea and biscuits really made us feel at home! Heather was also able to recommend someone to do alterations to the dress and she was able to store the dress for me for a little longer which was really helpful. All in all a great experience, now I can't wait for the big day!
Mary, Brighton, October 2014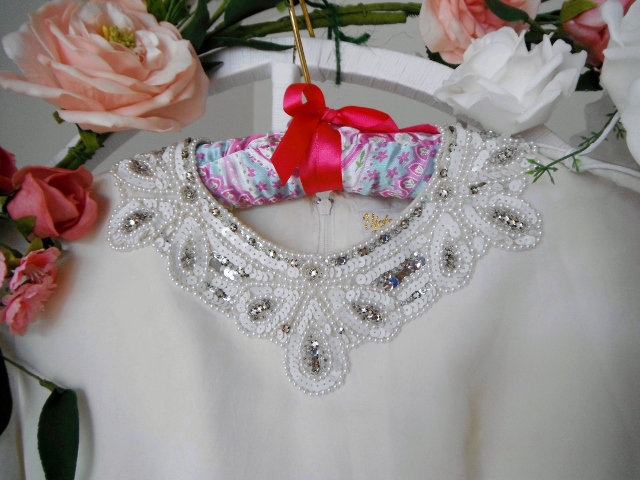 Perfect – a wonderful memory. You are allowed to consider without feeling pressured. Very good range of dresses. Very special – thank you
Linda, Kent, October 2014
Lovely, very relaxed. A good variety of styles and eras. Very good, bang on budget.
10\10 Fab overall experience '
'Heather, we had a fantastic time and I'm so happy with my dress, I can't wait to wear it!
Thank you so much.
Jo, Brighton, October 2014
Brighton Vintage Wedding Dresses was the first place I went to find my dress so it was a very special moment for my Mum, Sister and me. Heather was so friendly and patient as I tried on dress after dress. The boutique has been decorated beautifully and the atmosphere is so open and warm. The dresses are beautiful and there is a great selection to choose from. I would definately recommend visiting and I have promised my bridesmaids I will take them there when it is their turn
Mary, Horsham, October 2014
Spent some time in the company of the lovely Heather from 'Brighton Vintage Wedding Dresses' this afternoon. I was surrounded by so many gorgeous dresses, one of which Heather has kindly allowed us to use for our upcoming style shoot. Can't wait
Penny Young, Photographer